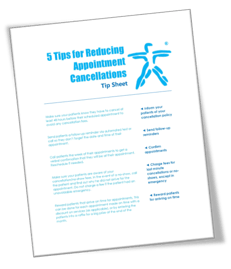 Download this free tip sheet!
5 Tips for Reducing Appointment Cancellations
By downloading this tip sheet, you will learn:
How to keep your patients engaged in their care
How to create a more organized front office staff
...and how to make your practice more profitable!
Did you know there are really

7 EXACT Steps You Need to Take to Reduce Cancellations

?
Brian and Melida Sganga in Lake City, FL implemented these 7 steps in their practice and their cancellation percentage went from 20% to 6%...
They discovered these steps at PT Revolution. You can learn more about this free event here.