Free Quick Reference Guide:
How to Get Started With FYZICAL
If you're like most looking to open their own physical therapy practice, you have the desire to treat patients with the care you know they deserve. You understand physical therapy, but you lack the knowledge of what it takes to start your own practice. At FYZICAL, we are here to help coach you through opening your own practice. In fact, we are and end-to-end solution for PT's looking to start their own practice.
By choosing FYZICAL, you're choosing to open your practice with a team that has opened over 400+ practices. To help you understand the process of opening your own FYZICAL Therapy & Balance Center, we've put together a short guide to walk you through our process. In this guide, we will cover: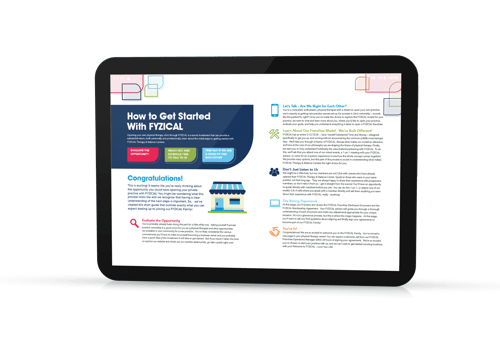 Understanding Your Options When Opening Your Own Practice
Understanding the PT Model of the Future
Speaking to FYZICAL Franchisees
The Boring but Necessary Paperwork
Welcome to the Team!
We know you want to provide the care your patients deserve, and we are here to help PT's achieve just that. To learn more, please download our guide below!