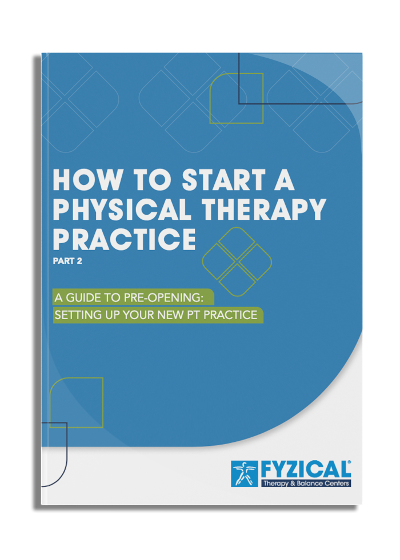 Part Two: Download Your Free Guide
Part 2: A Guide to Pre-Opening - Setting Up Your New Physical Therapy Practice
In guide one we discussed the pre-opening process. If you haven't had a chance to read that guide, check it out here.
FREE GUIDE
Do you know what goes into opening your practice?
In part two of our series, you will learn how to leverage the research you performed in part one to select and finalize your new physical therapy practice location. You will also walk away understanding key strategies for:
Legal Implications:

How to prepare for the legal process of opening a PT business.
Finding the Right Location:

Learn how to identify prime locations in your market.
Lease Negotiation:

Learn the types of leases offered and what things you should be looking out for!
Staffing Your Practice:

How to create a strategic plan that will help prepare your practice for financing.
Designing Your Practice:

Learn how to optimize your space for treatment and also revenue generation.
Getting Credentialed: Learn the process of credentialing and how that determines how your practice moves forward.
As someone looking to open their own practice, it's important to build the right foundation before you open to lay the groundwork for your future success. In this guide, you'll leave with an understanding of how to find the right location, what leasing options are available to you and common pitfalls to avoid, optimizing your practice design and layout for optimal billings, and so much more! Download your copy now!