FYZICAL Therapy Franchising
FYZICAL's model is the full-scale solution to a boutique fitness franchise, with more desirable wellness services
If you're considering a boutique fitness franchise, FYZICAL's holistic approach to health and wide-range collection of wellness services offer unrivaled opportunities for multiple revenue streams!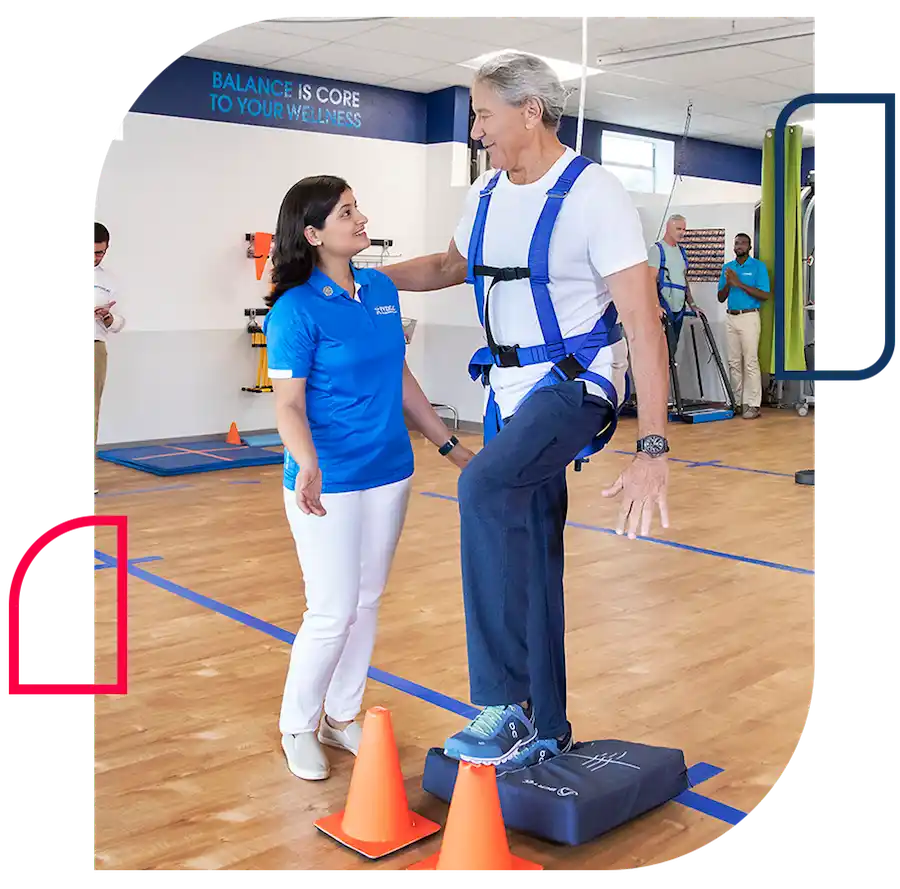 FYZICAL offers more than fitness
The global fitness industry, valued at $87 billion, has exploded over the past decade as consumers invest in their health more than ever before. Global boutique fitness franchises have emerged as an alternative to big-box gyms of the past.
Some of these include Orangetheory Fitness, Pure Barre, Burn Bootcamp, 9Round Kickboxing Fitness, and The Bar Method. They offer services like ballet, yoga, martial arts, 45-minute cardio and strength workouts, total-body group workouts (as opposed to HIIT, High-Intensity Interval Training), and online barre workouts from home.
Many boutique fitness franchises tout specialties, but have limited services that can curb revenue potential with a one-way approach to wellness. Market oversaturation, lack of customer loyalty before the "next big thing" comes along, and a picky customer base makes the investment risky. Improper messaging, pricing, and marketing are all factors that can quickly put someone at risk with a "start your own gym" franchise.
Here's where FYZICAL has a unique advantage over boutique fitness franchises. FYZICAL's whole-body approach with cutting-edge therapies involves more than just the latest workout. FYZICAL's wide range of health and wellness treatments and fitness opportunities provides a complete plan of care for patients. As the #1 Physical Therapy Franchise, with 470+ locations nationwide, FYZICAL's proven, flexible, scalable, business models and stellar brand reputation lead the market and are designed for unlimited opportunities and profit.
In addition to our proven business models, we offer our proprietary Balance Therapy Program, physical therapy, Vestibular Therapy and rehabilitation, Orthopedic and Sports Rehabilitation, Occupational Therapy, and more, allowing more opportunities for growth and profitability in an exploding industry.
Check out FYZICAL's comprehensive investment guide if you're considering a profitable investment that offers opportunities for unlimited revenue and profit.
The demand for healthcare services is continually on the rise
By 2028, the fitness industry is projected to grow by 171.75% to $434.74 billion. This spells a growth of 33.10% per year. Americans increasingly value the benefits of health and wellness. Get in on a growing industry that offers lucrative, scalable business models and infinite health and wellness services.
Download our investment opportunity guide to learn more about franchising with FYZICAL Therapy & Balance Centers.
How FYZICAL can help
A FYZICAL clinic can offer comprehensive health and wellness plan
FYZICAL is proud to offer a wide range of opportunities to help bring revenue and value to your clinic. While a boutique fitness franchise offer may one or two of the specialties, FYZICAL provides cutting-edge, world-renowned therapies in physical therapy, health and wellness, balance, and more. FYZICAL can help you become the premiere leader in the market offering a complete plan of care in treatment and wellness.
FYZICAL's whole-body approach and extensive physical therapy services, including our world-renowned #1 Balance and Vestibular Program, allow patients to access all the services they need to improve their health and wellness all under one roof.
Why offer one or two services when you can have an entire team of experts providing a holistic, complete plan of care? This means one source of care for their health and wellness needs and more revenue streams for your clinic.
#1 Balance Therapy Program
How FYZICAL can help
Why Choose FYZICAL?
Typically, it takes franchisee owners 90-180 days between signing and opening a new center.
We will make vendor introductions and set you up with our FYZICAL partner discounts.
Our team of experts will help you find a space and plan your build so it provides you with the highest probability of success.
Our team helps with everything from bookkeeping, to marketing support, to attracting new visitors.
We offer on-site training and assistance at your center to ensure your are set up for success.
We work with you to launch local marketing campaigns geared at attracting the attention of prospective patients.
Franchising with FYZICAL allows you to branch out and build a practice that serves as a total wellness center.
We help build value into our locations so that our partners can expect to see the largest return on their investment.
Earnings Estimates
The FYZICAL business models are proven and profitable
$956K
The average company-owned center generated over $956K in revenue in 2021.
19.2% Growth
Same-store sales average growth of 19.2% when comparing 2020 & 2021.


22.4% EBITDA
The adjusted EBITDA % for company clinics in 2021 was 22.4%.


Don't take our word for it
Hear from our franchisees
Ready to franchise with Fyzical?
We look forward to talking with you about your goals on a brief 15-minute call.