Investment Opportunites
Multi-Unit franchise opportunities
Round out your portfolio with a health care business.
We help you at every step of the way
Streamline your resources with multiple locations
FYZICAL has exciting multi-unit and area developer opportunities available for anyone who is serious about making a healthcare investment. If you're an experienced investor, you already recognize that FYZICAL is a brand with exciting and unique potential. We stand out in the healthcare industry because of our flexible business model, and partnerships with investors and practitioners alike. Many of our investors find that there's so much potential for FYZICAL locations in their area that there's no reason to stop at opening one. Learn about our multi-unit and area developer opportunities below.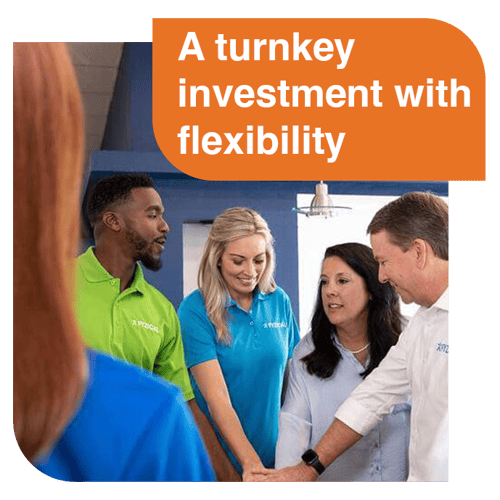 Why become a multi-unit investor?
The $50.26 billion physical therapy industry that's projected to grow to $72.70 billion by 2029. This sector is highly fragmented with no clear market leader, which means multi-unit ownership can equal tremendous profit. Our proprietary Balance Paradigm differentiates FYZICAL from all other providers, empowering physical therapists to treat balance and vestibular diagnoses with fall prevention therapies exclusive to FYZICAL.
Leverage the economy of scale
There is power in numbers. Multi-unit owners benefit from resource sharing, so when you develop multiple units, you can leverage your overhead costs such as marketing, advertising, and equipment, and organize staffing. This helps you decrease your bottom line and maximize your income potential. Additionally, you'll get all the benefits of FYZICAL's brand recognition and national presence as the #1 Physical Therapy franchise.
Available markets for development
FYZICAL is always scouting out the best places to open new locations, and we have available territories in every U.S. state! Some of the hottest markets for development are; Boston, Detroit, Seattle, Twin Cities, Orlando, Indianapolis, Boise, Columbus, Pittsburgh, and More!


Reach out to us today to get the details on our multi-unit and area developer opportunities.
Discover the Possibilities
Learn about our multi-unit and area developer opportunities today!