FYZICAL Therapy Franchising
FYZICAL's model is a full service solution to chiropractic franchise seekers
Whether you're starting your own chiropractic clinic, or adding chiropractic care to an existing one, FYZICAL Therapy & Balance Centers can set you up with a successful healthcare model!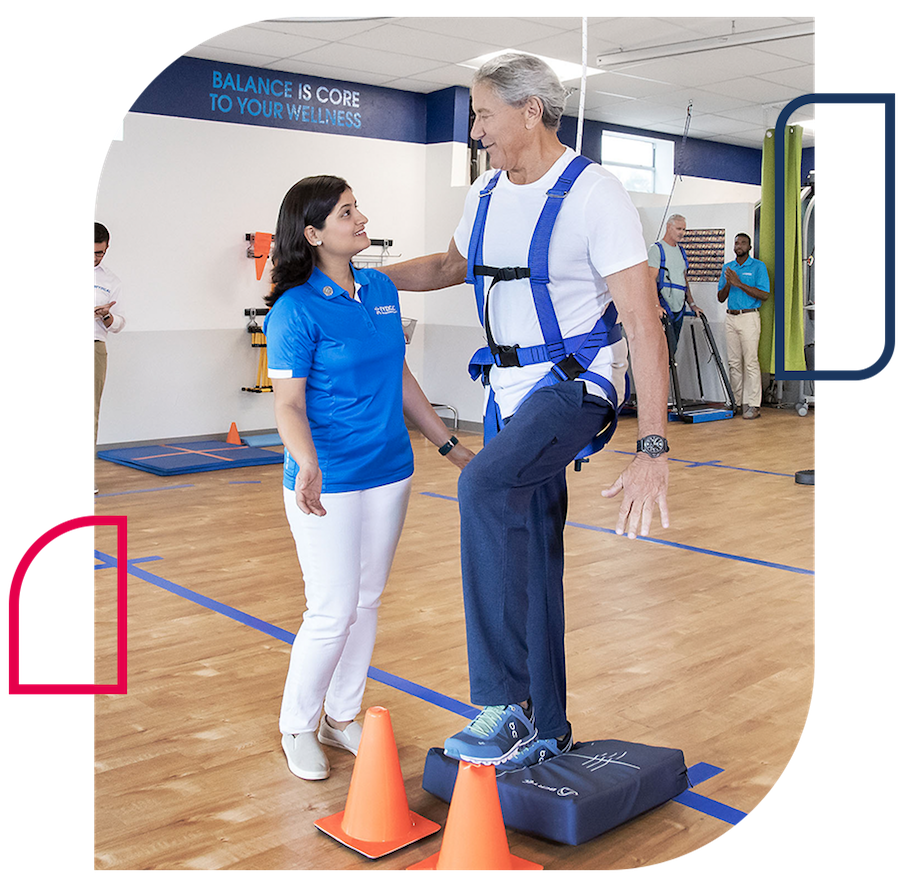 FYZICAL's model adds profitability opportunities
Chiropractic care is considered a mainstream healthcare service that provides an alternative to drugs for the treatment of pain. The market is driven by an increasing number of patients seeking medical treatments rather than approved medicine.
As a result, chiropractic franchises, like The Joint Chiropractic franchise, 100% Chiropractic franchise, and NuSpine Chiropractic franchise are looking to capitalize on patients who are wanting treatments that don't involve medicine.
Chiropractic franchises, however, can often be limited in terms of services and revenue streams. Most only offer adjustments for temporary relief, heat and cold therapy, or exercise therapy, and therefore can be limited in terms of profitable service opportunities.
FYZICAL's model offers value beyond adjustments or exercise. As the #1 Physical Therapy Franchise, we're a proven business model that offers a holistic wide range of physical therapy treatments, including our #1 Balance Paradigm and Vestibular Therapy programs, providing a whole-body plan of care for patients. We treat the whole person with cutting-edge therapies that involve more than massage or chiropractic care. FYZICAL stands alone as the #1 Physical Therapy Franchise and offers diverse revenue opportunities in a bursting $40.1 billion dollar physical therapy industry.
In fact, the latest report by the U.S. Bureau of Labor Statistics projects that the healthcare industry will create about 2.6 million jobs within the next decade. Check out this comprehensive blog if you're considering an investment opportunity in healthcare and understand why massage therapy, home healthcare, and physical therapy are ripe for investment.
The demand for physical therapy is continually on the rise
The physical therapy industry is a $40.1 billion dollar industry with no signs of slowing down. In a fragmented market with no clear industry leader, the industry is projected to grow by 21% over the next ten years. Get in on a growing industry where the hottest brand in healthcare franchising offers profitable, scalable business models and unlimited opportunities!
How FYZICAL can help
A FYZICAL clinic can bring more value than a chiropractic franchise model
FYZICAL is proud to offer a wide range of physical therapy services and opportunities to help bring revenue and value to your massage practice. A proven business model that offers physical therapy, massage, balance and vestibular treatments, and more, you can even integrate chiropractic services into your center. FYZICAL can help you to create a profitable therapy practice and help you become the leader in the market in whole-body wellness and therapy services.
FYZICAL's extensive physical therapy services, including our world-renown #1 Balance and Vestibular Program, allow patients to access many of the services they need to improve their health and wellness, all under one roof.
Our team of business and clinical experts create a complete plan of care so patients don't shuttle back and forth between multiple clinics. This means one source of care for their health and wellness needs and more revenue for your center.
#1 Balance Therapy Program
How FYZICAL can help
Why Choose FYZICAL?
Typically, it takes franchisee owners 90-180 days between signing and opening a new center.
We will make vendor introductions and set you up with our FYZICAL partner discounts.
Our team of experts will help you find a space and plan your build so it provides you with the highest probability of success.
Our team helps with everything from bookkeeping, to marketing support, to attracting new visitors.
We offer on-site training and assistance at your center to ensure your are set up for success.
We work with you to launch local marketing campaigns geared at attracting the attention of prospective patients.
Franchising with FYZICAL allows you to branch out and build a practice that serves as a total wellness center.
We help build value into our locations so that our partners can expect to see the largest return on their investment.
Earnings Estimates
The FYZICAL business models are proven and profitable
$956K
The average company-owned center generated over $956K in revenue in 2021.
19.2% Growth
Same-store sales average growth of 19.2% when comparing 2020 & 2021.


22.4% EBITDA
The adjusted EBITDA % for company clinics in 2021 was 22.4%.


Don't take our word for it
Hear from our franchisees
Ready to learn more about franchising with FYZICAL?
We look forward to talking with you about your goals on a brief 15-minute call.